Using the Jigsaw Strategy in the English Language Learner Classroom to Teach Content-Specific Vocabulary
Keywords:
jigsaw, multilingual learner (ML), English as a second language (ESL), vocabulary, genetics, cooperative groups
Abstract
Multilingual learners (ML) at the secondary level come to the classroom with a variety of learning experiences and language capabilities. An obstacle ML students could face is learning the everyday usage of an additional language while simultaneously learning the academic and content language, which can cause a potential challenge in the classroom. Thus, teachers must be able to adapt their teaching pedagogy to assist MLs, which can prove to be challenging. Academic vocabulary and conversational language are two different aspects of learning a new language, with academic being the more difficult to obtain since it is not as tangible as conversational language. This teaching techniques piece explains a modified jigsaw vocabulary activity that was used successfully in a sheltered ML secondary science class; additionally, this strategy can be modified and used across content disciplines and grade levels, and abilities. This activity utilizes cooperative learning, graphic organizers, and peer-to-peer engagement to create an optimal learning environment for ML students.
References
Bautista, N., & Castañeda, M (2011). Teaching science to ELLs, Part I: Key strategies every science teacher should know. The Science Teacher, 78(2), 35–39. https://www.jstor.org/stable/24148089
Pang, Y. (2013). Graphic organizers and other visual strategies to improve young ELLs' reading comprehension. New England Reading Association Journal, 48(2), 52.
Ranney, S. (2012). Defining and teaching academic language: Developments in K‐12 ESL. Language and Linguistics Compass, 6(9), 560–574.
Tabiolo, J. L., & Rogayan, D. J. (2019). Enhancing students' science achievement through jigsaw II strategy. Journal of Science Learning, 3(1), 29–35. https://doi.org/10.17509/jsl.v3i1.17680
Talebi, F., & Sobhani, A. (2012). The impacts of cooperative learning on oral proficiency. Mediterranean Journal of Social Sciences, 3(3), 75.
Tjandrawati, T. (2017). The implementation of cooperative learning with jigsaw type to improve student learning outcomes on natural science subject. Jurnal Penelitian Dan Pembelajaran IPA, 3(2), 151–161. https://doi.org/10.30870/jppi.v3i2.2579
Wilcox, B., & Morrison, T. G. (2013). The four Es of effective vocabulary instruction. Journal of Reading Education, 38(2), 53–57.
Woods, H. B. (2019). Expediting learning through peer teaching: Experiences with the jigsaw technique. Health Information & Libraries Journal, 36(4), 378–382. https://doi.org/10.1111/hir.12283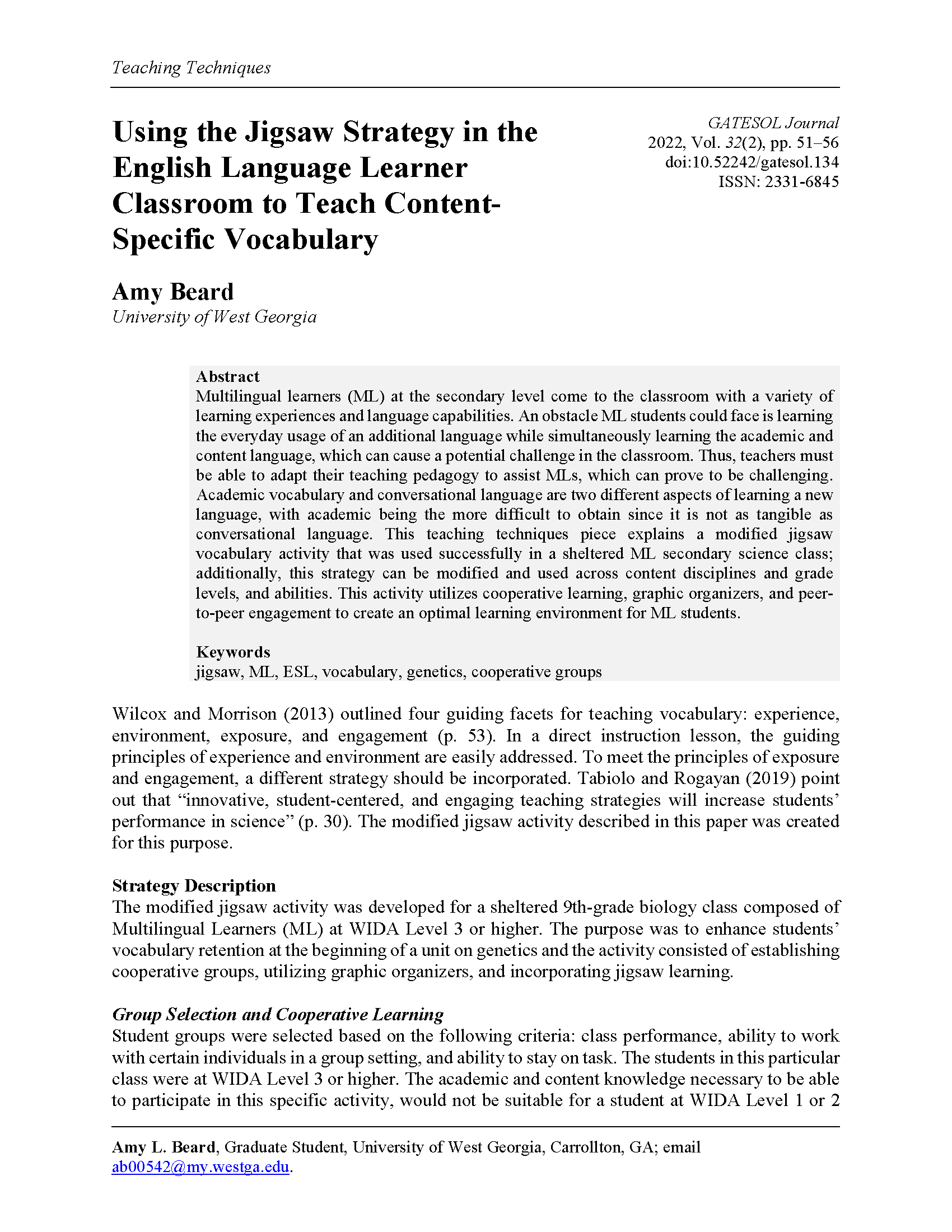 Downloads
How to Cite
Beard, A. (2022). Using the Jigsaw Strategy in the English Language Learner Classroom to Teach Content-Specific Vocabulary. GATESOL Journal, 32(2), 51–56. https://doi.org/10.52242/gatesol.134
Section
Teaching Techniques